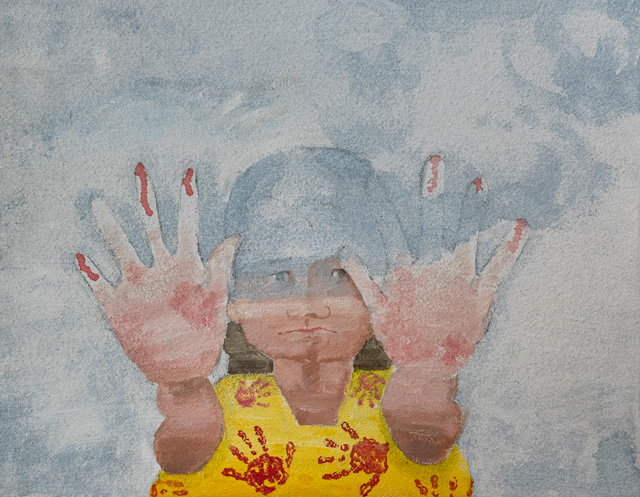 Another response to the Uvalde school mass shooting is expressed in "The Printed Dress".  The young student Miah Celino survived the massacre at the Robb Elementary School by taking the blood from her dead friend's body, smearing it all over her own body and playing dead.
"Goodnight" is my response to the massacre of nineteen children and two adults at the Robb Elementary School in Uvalde, Texas. "Goodnight" is also the word used by the gunman Salvador Ramos before he shot a teacher. I used fragments from the children's book "Goodnight Moon" by Margaret Wise Brown.
Goodnight Room…Goodnight Moon
Goodnight Light…
Goodnight Nobody…
Goodnight Air… Goodnight Noise Everywhere
Gun laws in the USA must be reversed instead of merely modifying them.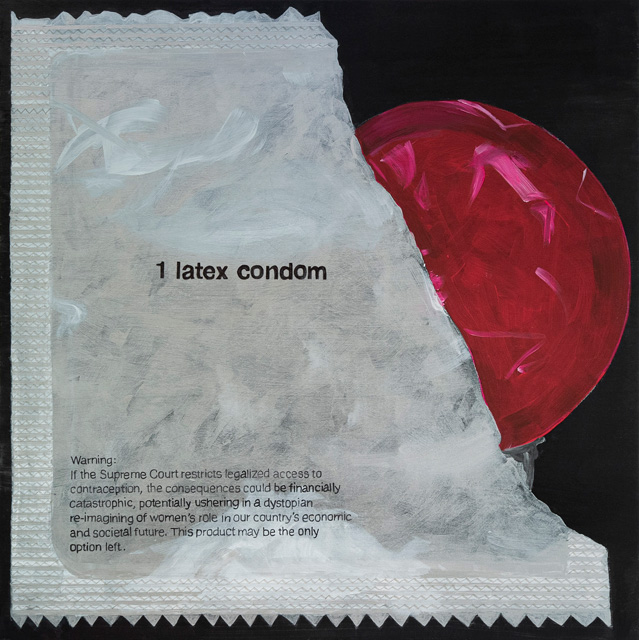 With a nod to Pop Art, "Last Option" needs no explanation save the warning message at the bottom of the painted package: If the Supreme Court restricts legalized access to contraception, the consequences could be financially catastrophic, potentially ushering in a dystopian re-imagining of women's role in our country's economic and societal future. This product may be the only option left. This could be a fallout byproduct after Roe.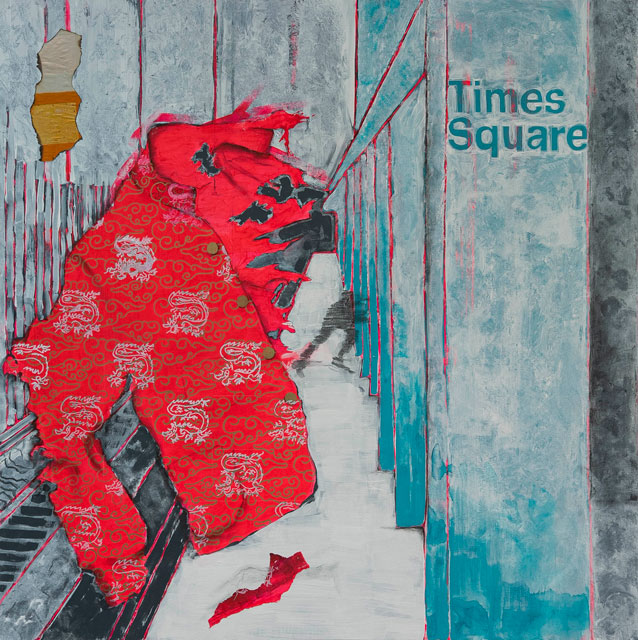 "Ghost Paper" is spotlighting on the killing of Asian-American Michelle Go earlier in 2022, who was pushed into an ongoing subway train by a man in NYC on the Times Square subway platform. Spirit paper or "ghost paper", is typically orange and gold squares on thin paper and is burned as currency for the dead in the afterlife. I partially burned a ghost paper and collaged it on the painting in the upper left corner.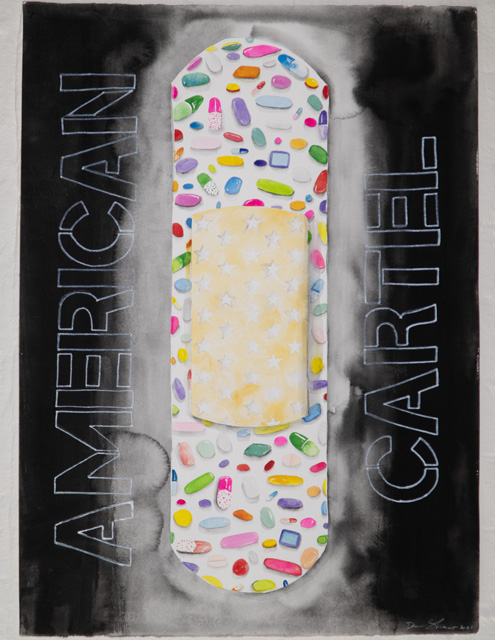 "American Cartel". Continues with the Opioid Crisis, where I intentionally chose the comforting, nostalgic and ultimately delusional image of a BandAid. Watercolor suggests a lightness and a classic medium used in 1950's advertising illustration.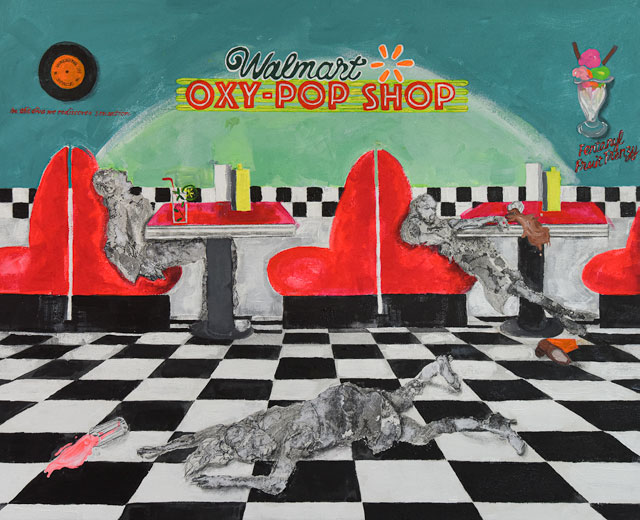 "Oxy-Pop Shop", addresses the Opioid Crisis and Big Pharma that enables it. My charcoal figures are inspired by fragments of cellular, microscopic human tears of grief and endings, against a backdrop of a candy-colored diner of the 1950s and saturated with promises of the American Dream which no longer seems to exist.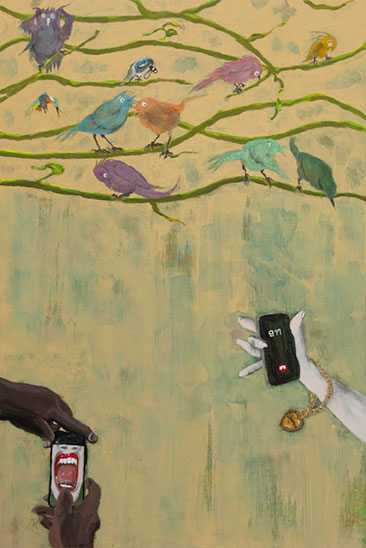 This depicts the New York City's Central Park confrontation on May 25, 2020, between a white woman, Amy Cooper and a black birdwatcher, Christian Cooper. Amy Cooper depended on white privilege and exercised blatant racism. She evoked the racist murder of Emmett Till in the 1950s and the white woman who lied about him. She used the police against Christian Cooper by inventing assault. My idea is to have "NATURE" (Birds) reacting to Amy Cooper's appalling and racist behavior while it is happening.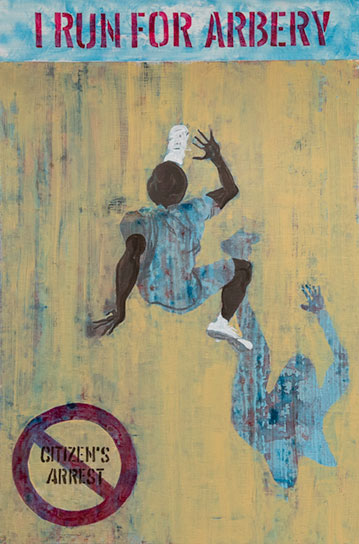 On February 23, 2020. Ahmaud Arbery, an unarmed 25-year-old African-American man, was fatally shot in Georgia while jogging by Gregory McMichael and his son Travis. A third man, William Bryan, in a second vehicle, trapped him on the road and video-taped the murder. S. Lee Merritt, an attorney for the Arbery family described the McMichaels and Bryan as "vigilantes" and "a posse" who "performed a modern lynching in the middle of the day." My idea is to have The Divine Gaze looking down and seeing the colors of life and potential in Ahmaud's clothing and shadow, running freely along the road, and The Divine sadly anticipating calling this Son back home.
Inspired by the title of an article in The Atlantic, March 2020, this artwork addresses Donald Trump at the onset of the coronavirus, refusing to take responsibility for his administration's response to the pandemic. His shutting down the White House pandemic office. His ignoring intelligence warnings. His failing to test.  His failing to procure medical supplies.  His spreading of lies and information. His appointing Mike Pence to run the White House Coronavirus Task force, who is a skeptic and denies science. Trump's blocking access to health care, which puts all of us risk. His favoring governors who are political allies when distributing lifesaving medical supplies.  His failing to hire competent experts to manage this crisis.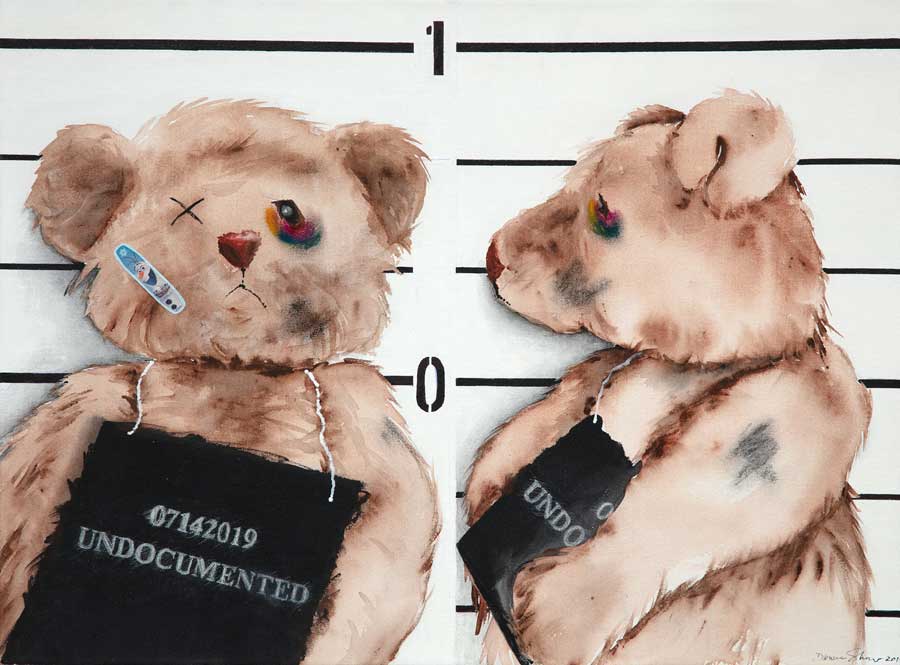 The horrors at the US/Mexican border have left me in utter disbelief and totally enraged at the Trump Racist Agenda. The abuse is beyond comprehension. Parents are separated from their children for months, children are being put into cages, malnourished by poor nutrition, becoming seriously ill by unsanitary living conditions, dying from lack of all of the above including lack of human, loving contact. In Child Interrupted, these atrocities are so painful to me that I have used teddy bears to understudy actual children in the painting. The teddy bear is staged in a mug shot, criminalized, dirty, wounded.
---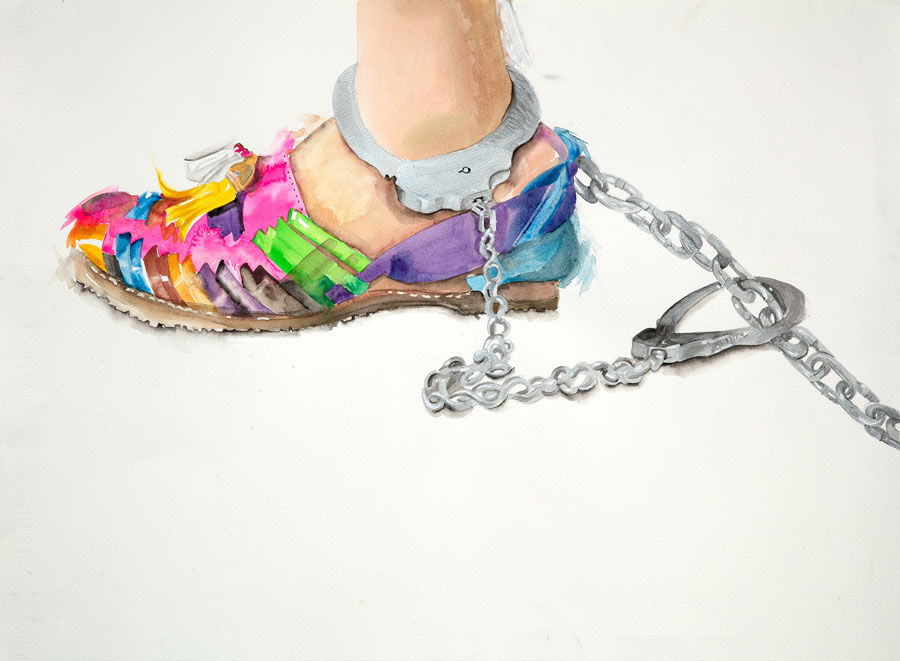 The abuse of families at the US/Mexican border has created Tiny Dancer, illustrating a huarache, a Mexican dancing sandal, Pre-Columbian in origin, symbolizing free movement, celebration and life. Here it is painted in many colors, fluid in light with the use of watercolor, suggesting vibrant life force only to be shackled in cuffs, painted in dense steel acrylic.
---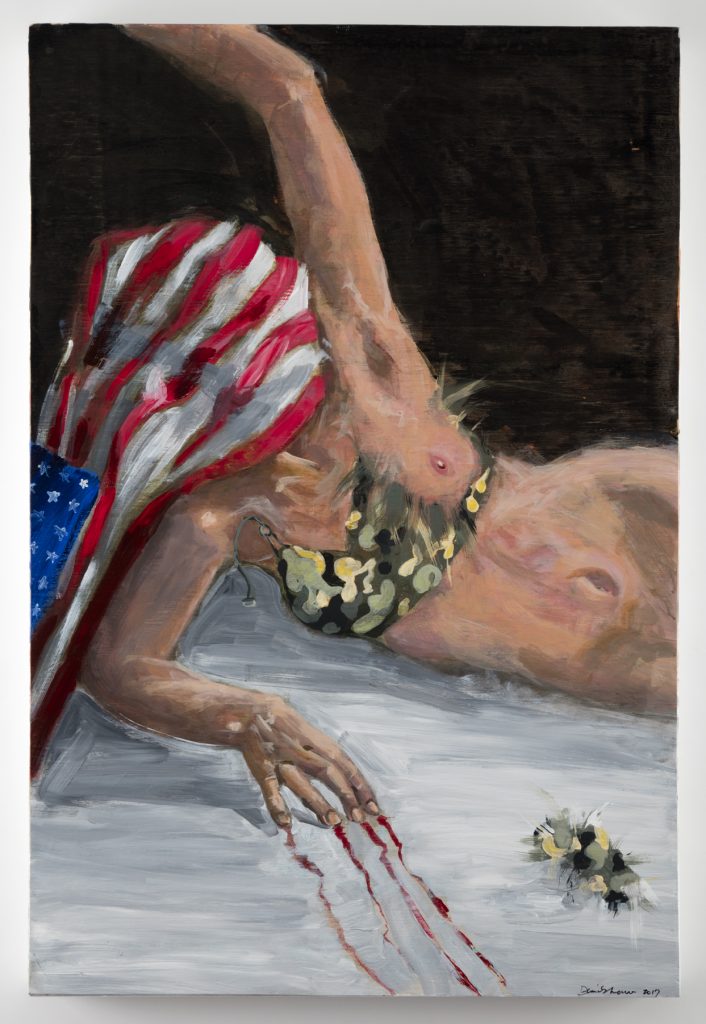 Rape in the military is a prevalent and underreported human rights issue. Traditionally, the chain of command, specifically two and four star generals have turned a blind eye. As one female Marine stated:
"Rape is hard. It's a hard thing to endure and it's a hard thing to prosecute. I say this from two perspectives: From my own experiences as a victim, and from my experience as a military prosecutor." However, male soldiers are also victims as well. Democratic Senator Kirsten Gillebrand from New York stated in 2016: "The truth is that the scourge of sexual assault in the military remains status quo." Earlier this year the online "Marines United" surreptitiously distributed "explicit images of women in the armed forces, often with obscene, misogynist commentary."
---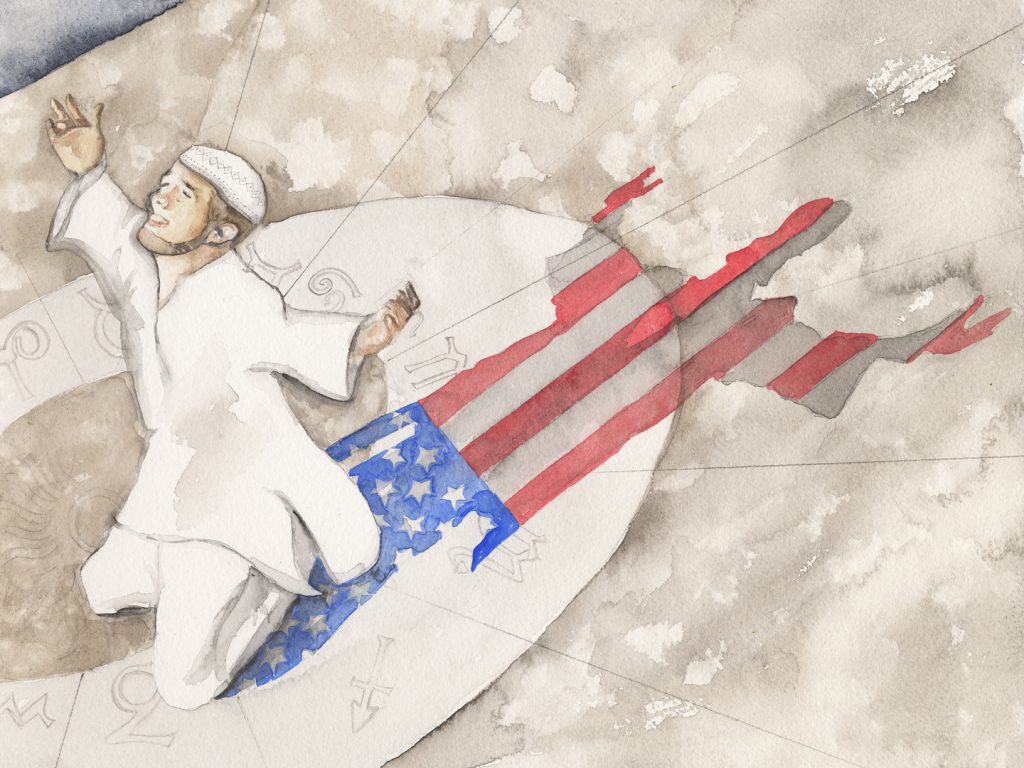 Demonization of one's religion in America is not what our Constitution is based on.  Our Founding Fathers fled religious persecution abroad to come to these shores. Today's American Muslims live in a mere shadow of democracy, subjected to fierce accusations, exclusions, deportation threats and now with the current Administration, refusal of entry in a country that is based on and built by immigrants.  This image illustrates the joyous connection with the Divine and the sustaining love that the worshipper derives from Spirit.
---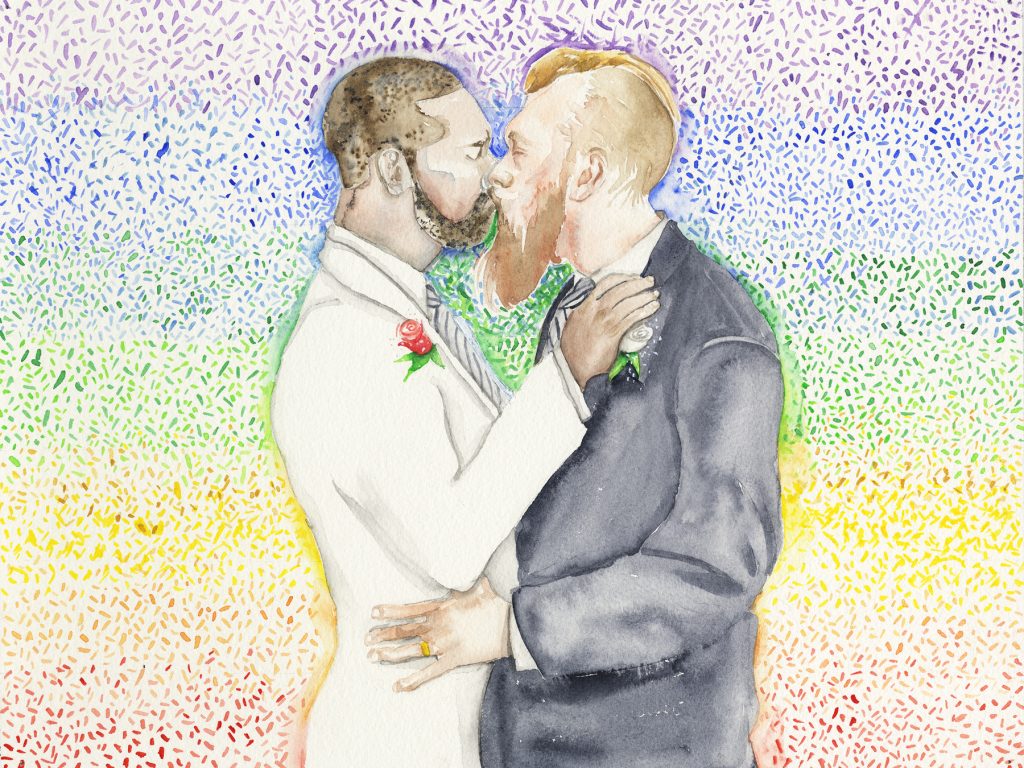 The prevailing homophobic attitude existing in America today is threatening one's rights to legally partner in freedom and in happiness with a same sex partner. To create loving families and to keep these partnerships financially  secure is to create a freedom to live one's authentic life. This same sex marriage is surrounded by colorful rice/confetti corresponding to the colors that are attached to the major endocrine system of the human body, beginning at the base with red and rising to violet near the crown of the head. These colors symbolize feeling safe, sexuality, self worth, emotions, one's will and verbal expression, one's psyche and one's spiritually.
---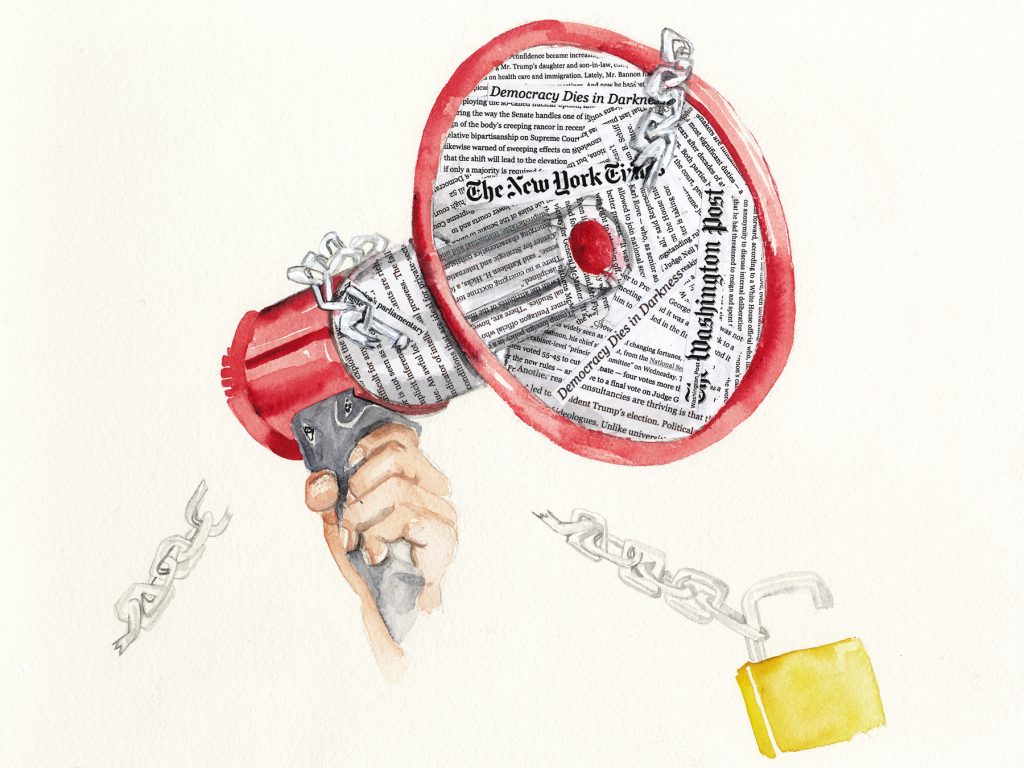 Control of the media, control of political and humanitarian demonstrations, control of artistic expression by defunding art organizations, is Dictatorship.  The megaphone in my watercolor image has the targeted New York Times and The Washington Post as additional collage to form the device. The broken lock and chains symbolize freedom of expression, freedom to speak loudly in the defense of our rights.
---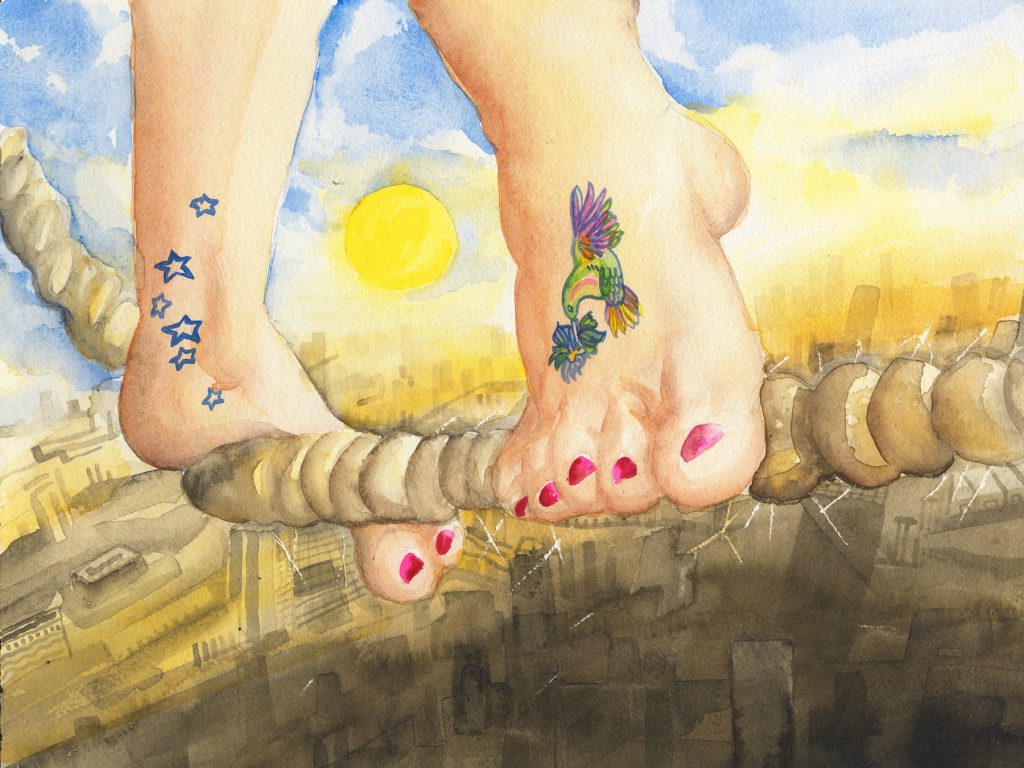 This image promotes confidence, validation and strength to realize one's dreams and aspirations, particularly of women.  This is inspired by the debate at the moment on Wall Street where the sculptor of "Charging Bull"  is asking the city to take down the sculpture "Fearless Girl" because it distorts his art and violates his rights.   "Fearless Girl" faces the bronze beast, was placed there on the eve of international women's day and has become so meaningful that it has been granted a permit for another year.  My image depicts female feet on a tightrope at dawn with a large metropolis looming beneath her.  The painted toenails and whimsical tattoos illustrates a free spirit, as Emily Dickinson once wrote, "dwelling in possibility".
---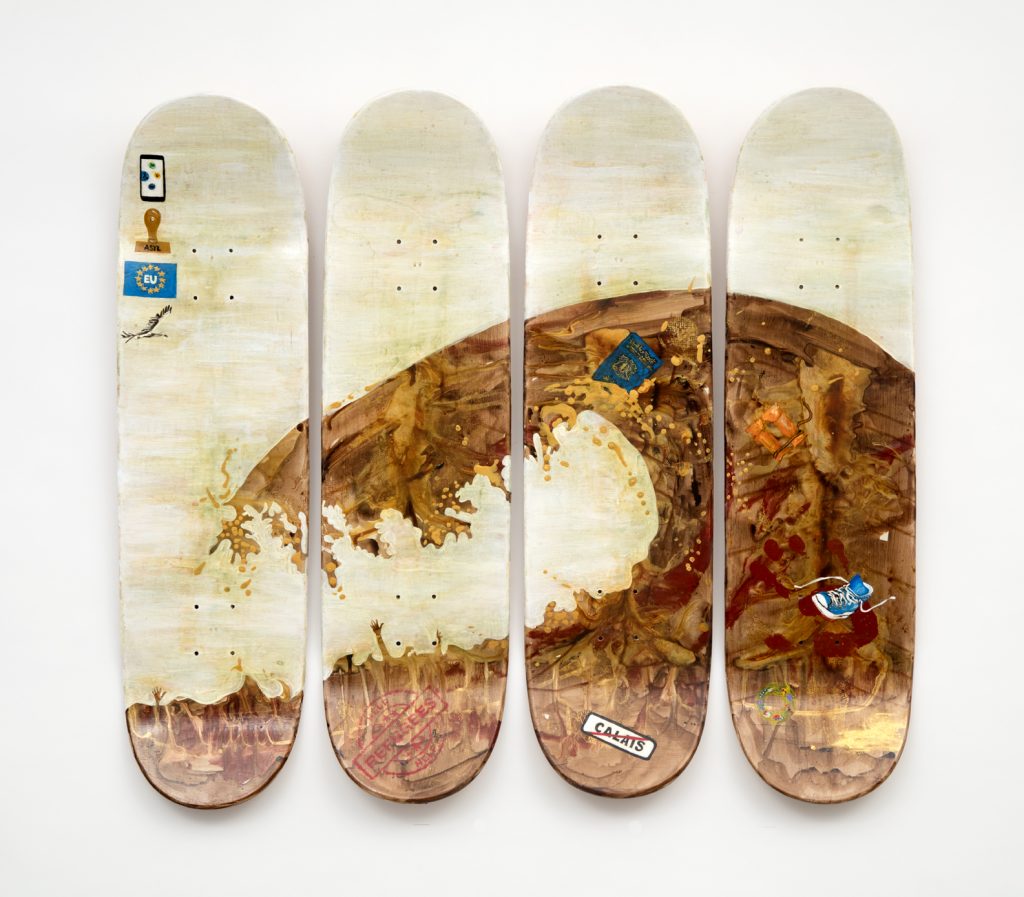 La Crise Migratoire is an alarming observation of the migrant situation in Europe.  I painted the images on 4 skateboards to suggest floating debris from capsized boats where refugees have lost their lives.  The skateboards also symbolize travel and hope—hope in the sense of a youthful "new life" beginning.  I have adopted an Asian panel screen format with a traditional "narrative" in the corner.  My narrative consists of a German cell phone with apps to assist refugees, an asylum stamp, the European Union flag and a crane.  The panels are painted partially with an Old Masters European approach using multiple varnishes.
---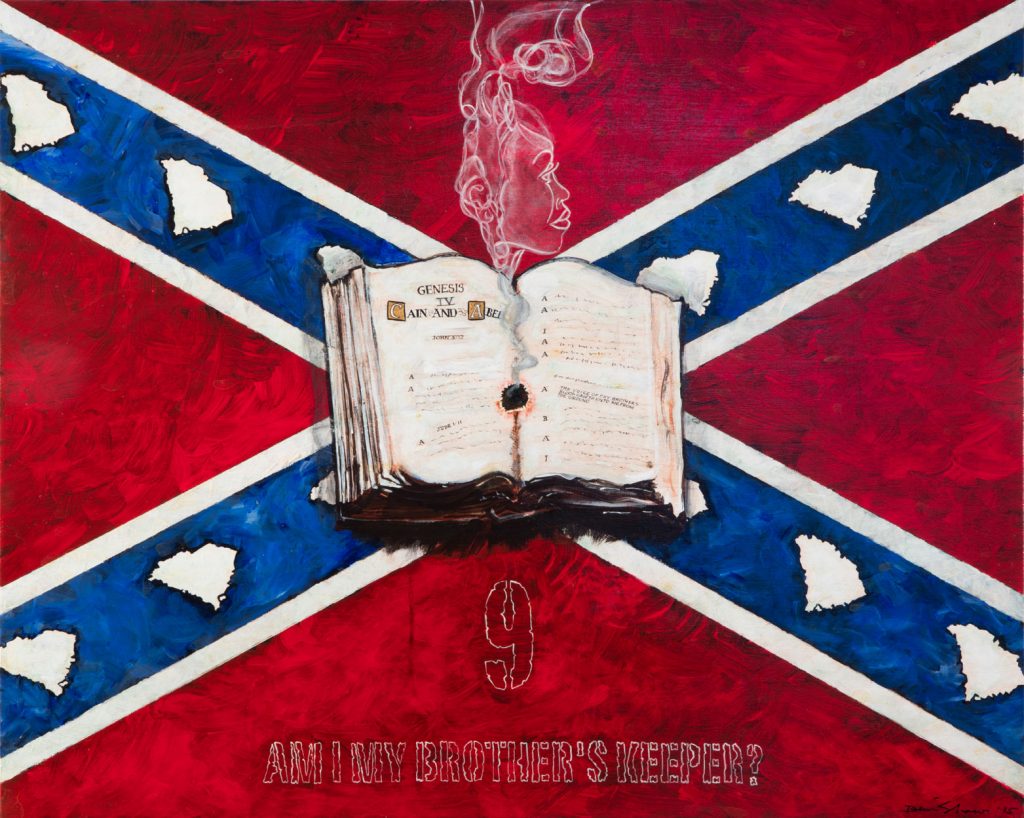 Charleston is my response to the massacre of nine African Americans committed during their bible study at The Emanuel African Methodist Episcopal Church in Charleston, South Carolina. I view the Confederate Battle Flag as a menacing design, forming a large "X" and replaced the stars with repeated states of South Carolina to illustrate the prevailing, repetitive mindset of racism. Superimposed on the flag is an antique bible, symbolic for many as eternal truth and devotion. A bullet hole mars the center and the smoke rising becomes the spirit of a woman ascending. On the biblical page I've chosen the story of Cain and Abel, the first and eternal murder. "Am I my brother's keeper?" Cain asks?
---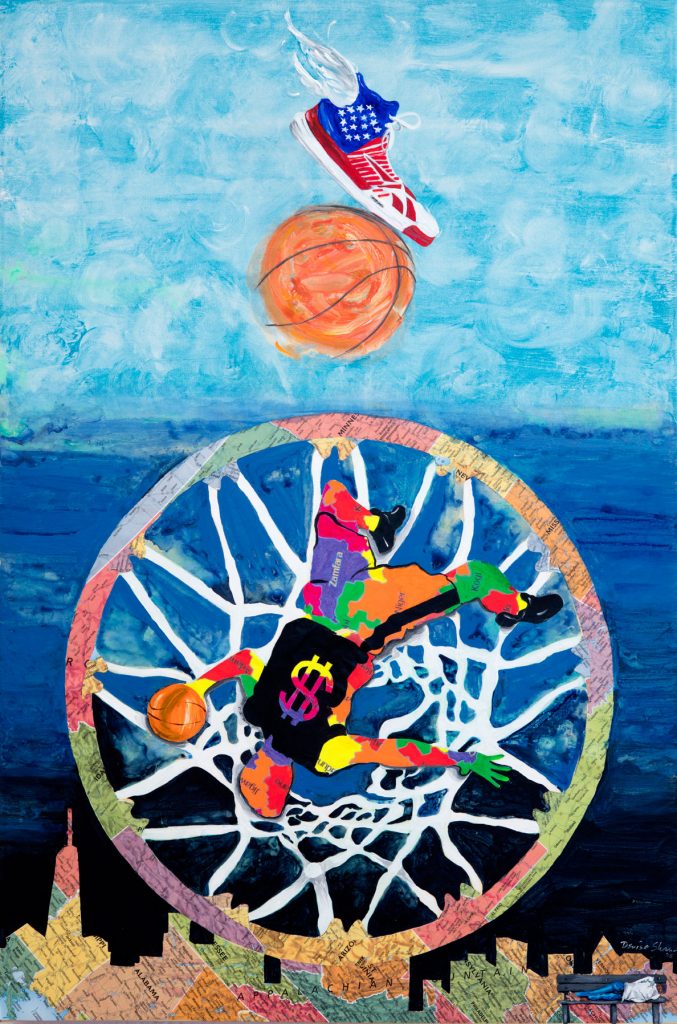 American Hustle addresses how American elite youth basketball exploits African athletes. Beginning in countries like Nigeria, male teenagers dream of fame, fortune and a pair of Nike sneakers. The youth importune scouts and coaches in the USA by sending their basketball moves on cellphone videos in hopes of scoring athletic scholarships. Often American sponsors neglect to feed, house, secure a high school education, forbid autonomy, let visas lapse and yet migrate the youth across states to one gym after another and work them with high tempo, unrelenting drills. These teenagers are simply a commodity and if unsuccessful, human trafficking victims. I followed the plight of one Nigerian young man, who ultimately ended up homeless on the streets of Manhattan where I personally live. The angelic sneaker is the displaced savior, the player whose body is formed by the map of Nigeria is caught by the basketball net formed by part of a map of the USA. The bottom of the net also forms the skyline of Manhattan which ironically includes the Freedom Tower.
---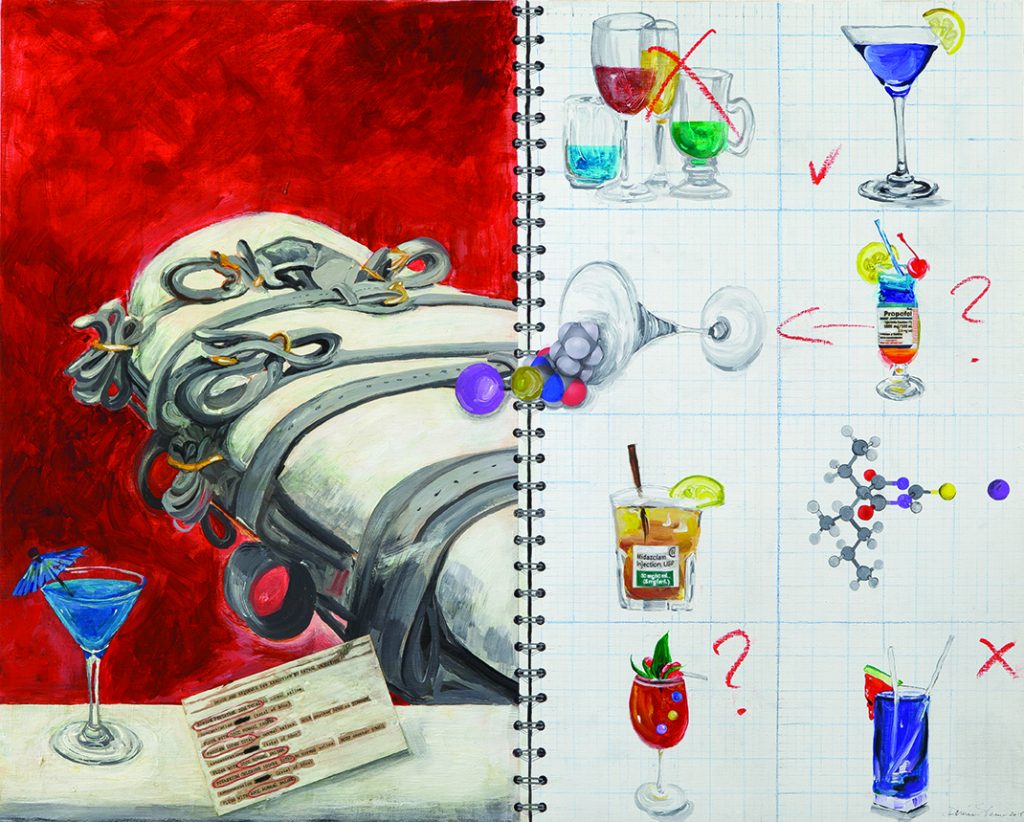 In The Test Kitchen sheds light on the unscientific methods used by untrained doctors and technicians to administer lethal injections to Death Row prisoners. It addresses the irresponsibility of officials and lawmakers to properly insure a correct and standard drug. Instead, "cocktails" are being ill conceived, experimentally and irresponsibly administered resulting in prisoners taking too long to die or failing to die. My idea is creating a "notebook" on the right side of the painting where ideas for "cocktails" are conceptualized seemingly at whim and with carelessness. The left hand side depicts the ominous death chamber with its serpentine leather straps on the death bed and perhaps an untested cocktail waiting to be administered. I took an Old Masters' approach with this side of the painting, using glazes and varnishes, to suggest an antiquated attitude towards capital punishment.
---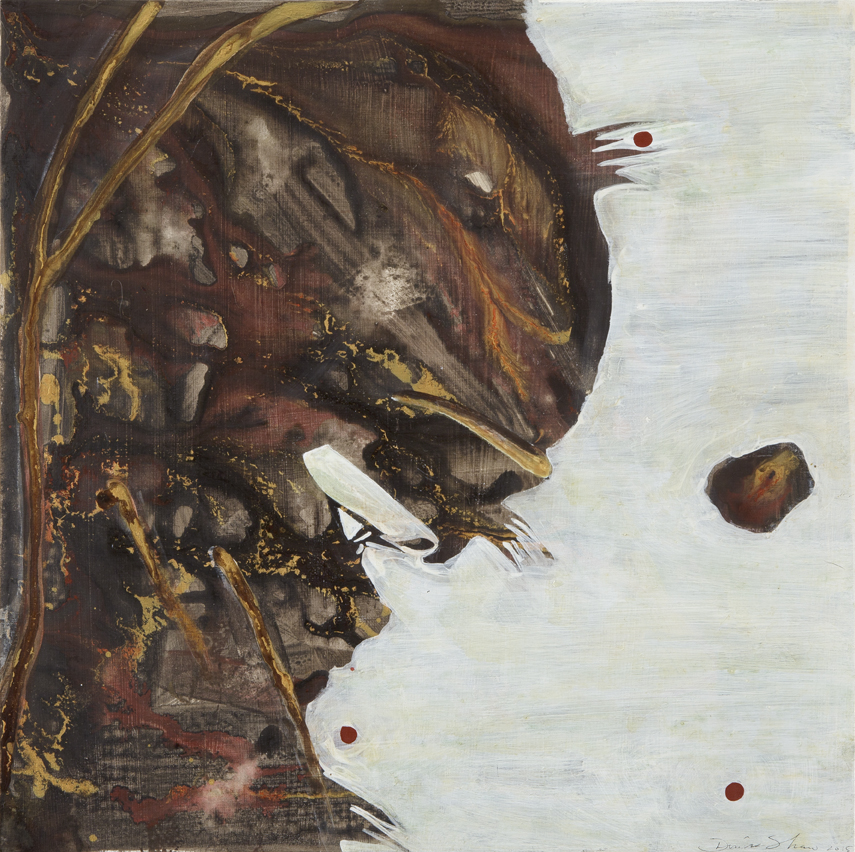 Companion Of The Fire addresses stoning as a violation of women's rights living under Muslim Laws. It is a form of cruel and unusual punishment and torture, and a serious violation of human rights. According to Change.org: "The practice of stoning disproportionately targets and polices women and their conduct, and it often further entails a number of civil and political rights violations that follow on from unfair judicial processes and conditions of detention. Women are more likely to be sentenced to stoning when misogynist interpretations of religious laws and cultural mores form the basis of laws governing sexual relationships and the family." Instead of the traditional dark solid color of the chador, I have chosen to implement the head scarf pulsating with energy, flowing life and alchemy to indicate flesh and blood and a God created entity, not a disregarded entity among the herds of a perceived 4th class population.
---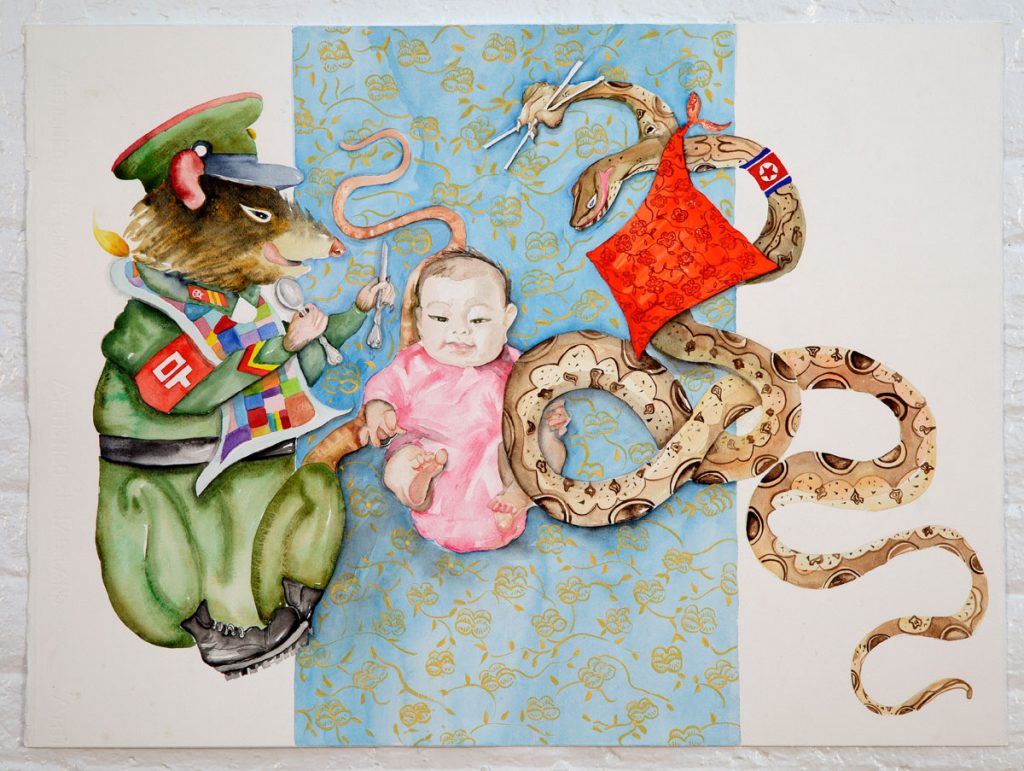 Plat du Jour: Dear Leader Special represents the mistreatment of North Korean citizens with acts that are unspeakable and unthinkable in the 21st century. In reference to the North Korean repatriation camps, the example I choose is a particular form of infanticide. To illustrate the horror without getting excessive, and to engage the viewer with curiosity, disturbance and individual viewer decision making, my approach was to implement the piece with the light and charm of watercolor and treat it as a children's book illustration.
---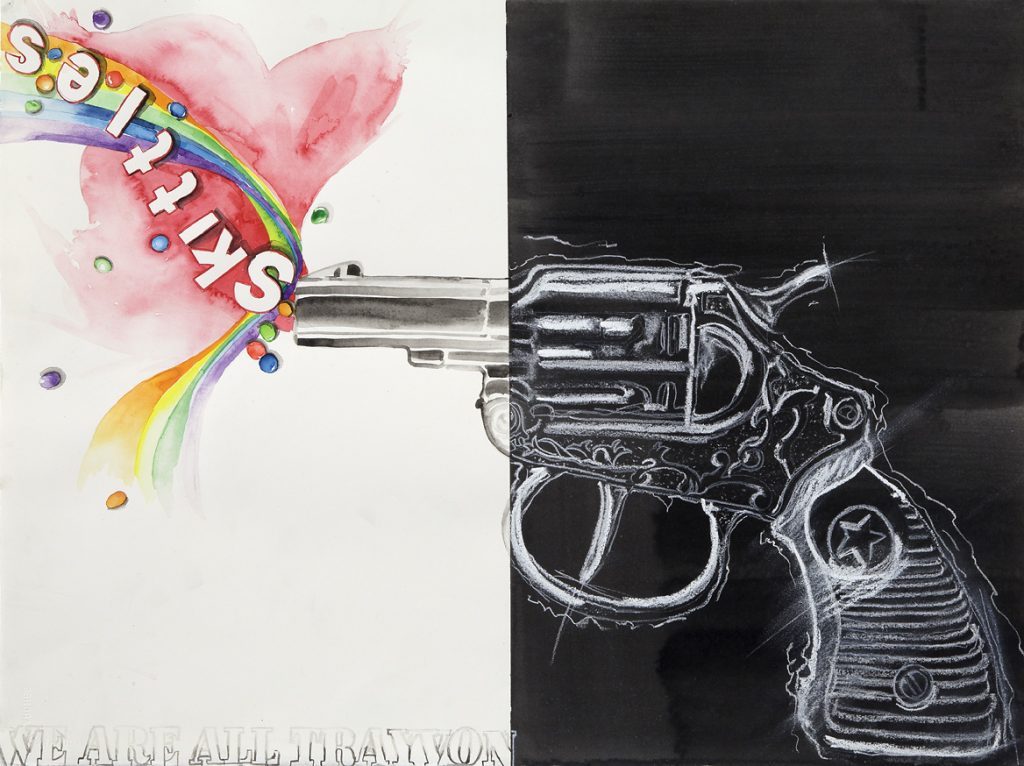 We Are All Trayvon is a human rights issue making a plea for stricter gun laws in the United States and regulations on the sale of American weapons around the globe. It is addressing the tragedies that have occurred and will continue to occur by gun violence in kindergartens, college campuses, movies theaters, malls and gated communities. It is a commentary on profits made globally where firearms land in the arms of child soldiers in world conflicts. The reference to "Skittles" in this art piece is the bag of candy Trayvon Martin was clutching in his hand when he was killed. The gun depicted here is a decorative, antique model representing glorification and out-dated attitudes towards gun ownership. I have rendered the gun in chalk to reference the chalk used at a crime scene to outline a dead body.
---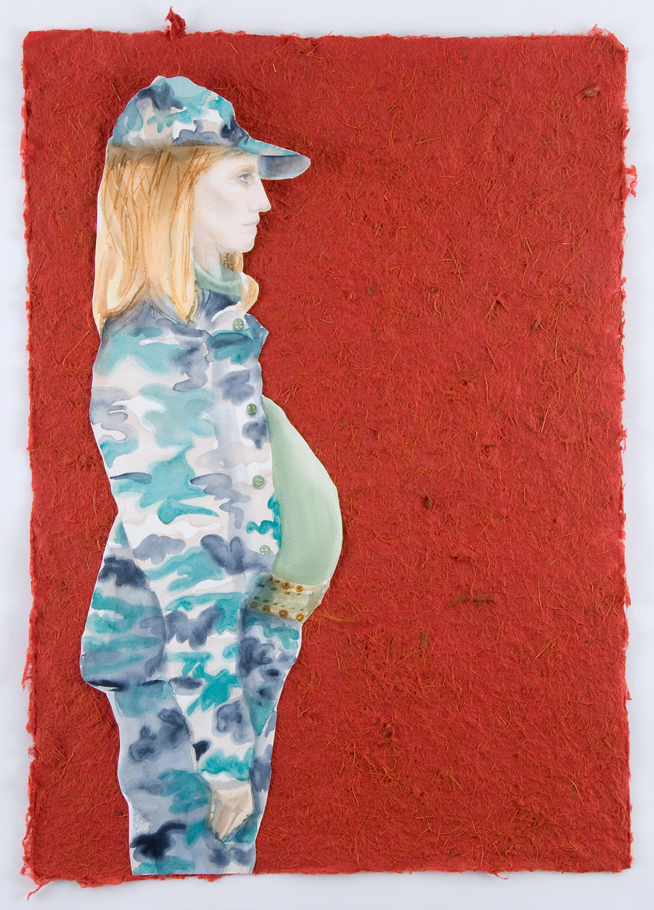 Give/Take Life addresses the refusal on the part of the Pentagon to take responsibility for the issues of rape in the Military which is an unspoken, under reported atrocity.
---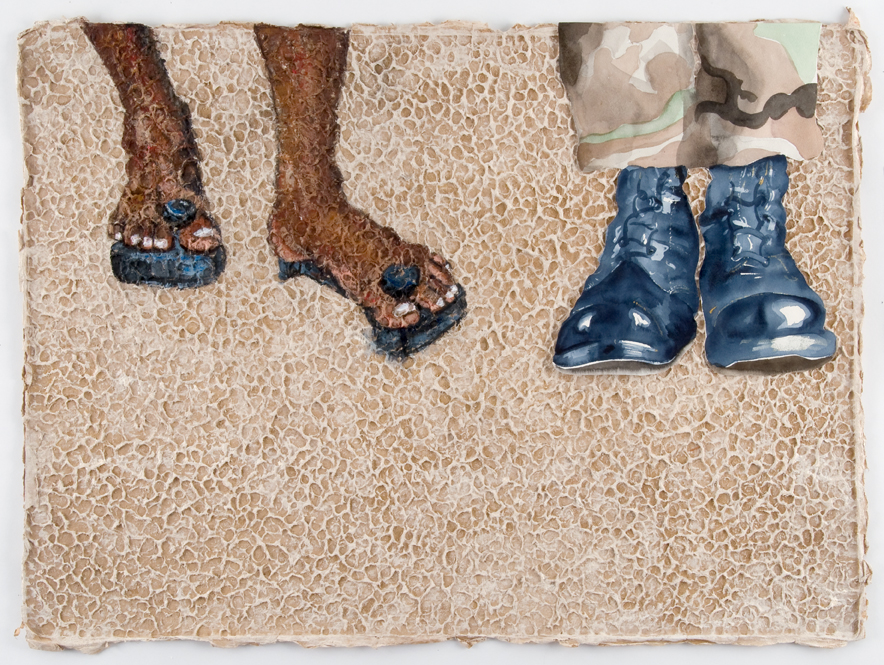 Untitled illuminates the age old practice of invasion, occupation and colonization throughout the world. The sandaled feet are painted in acrylic right into the earth (the textured paper) and the army boots are painted in watercolor and collaged onto the paper. This symbolizes authenticity versus illusion.
---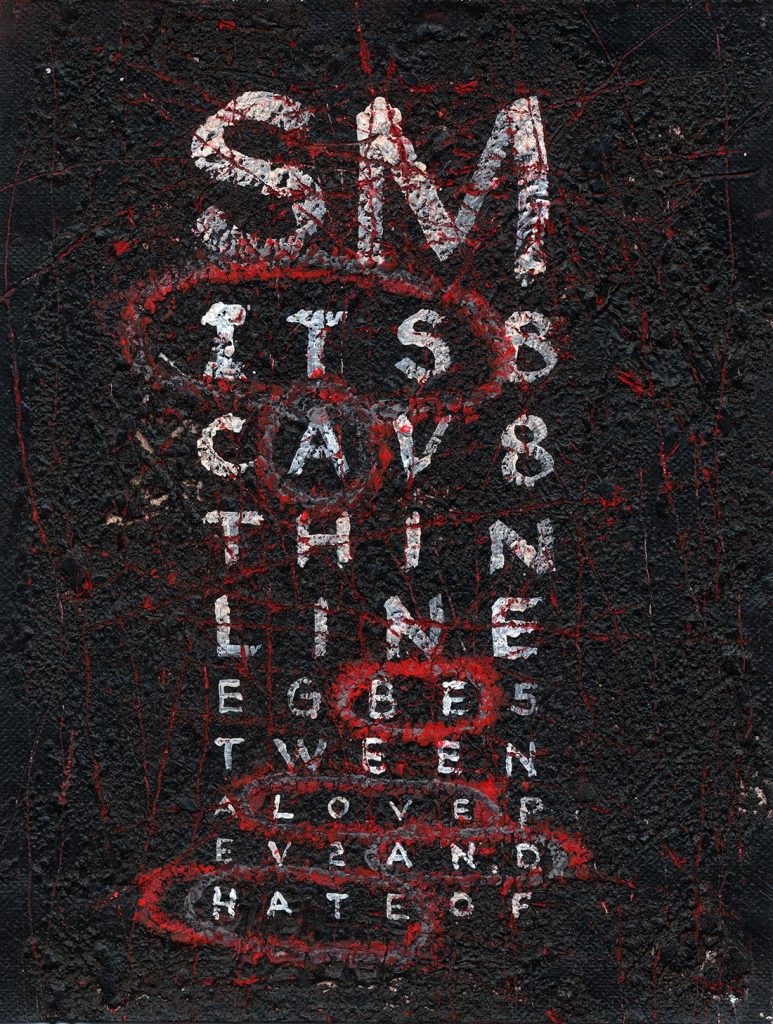 It's A Thin Line Between Love And Hate illustrates domestic violence, a human rights issue, that is often hidden or hard to distinguish. I have simulated a doctor's eye chart and used the title of a Pretenders' song. Some words are circled, some are not, making it hard to see, but still forming the whole line or title.  This artwork is featured in Time Capsule: A Concise Encyclopedia by Women Artists published by Creative Time, 1995.  It is an anthology treating publication as a public space.  This book accompanied First Lady Hillary Clinton, along with international delegates, ambassadors, political leaders and others to the United Nations' Fourth World Conference on Women in Beijing, 1995.
---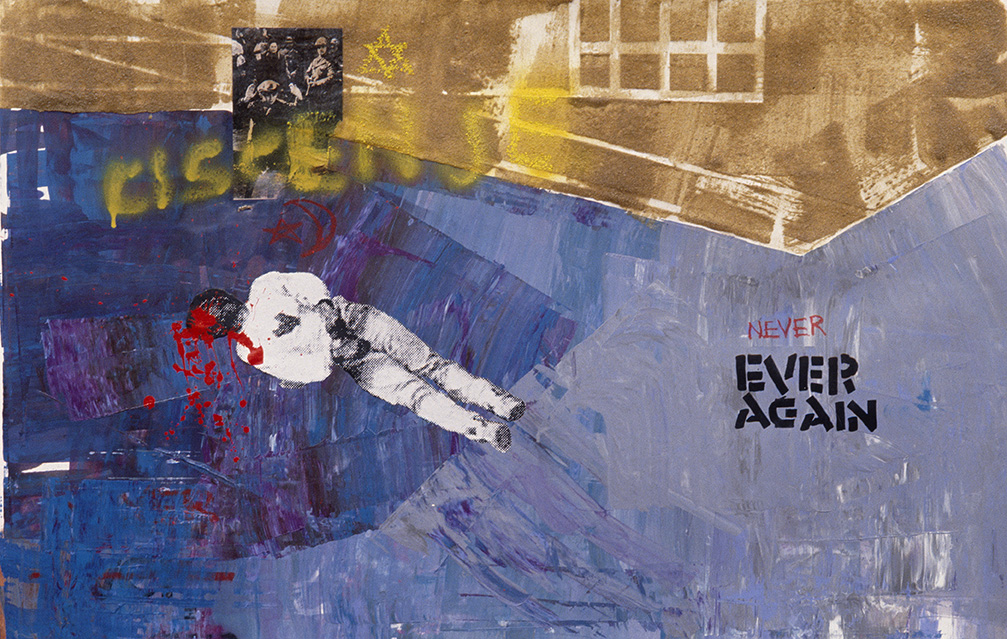 Ever Again is part of a series of work completed in 1992-1993 addressing the Serbian/ Croatian conflict in the Former Yugoslavia.  At the time it was distressing to me how the rest of the world seemed to sit back and just observe.  "Ciscenje" is a Serbian-Croatian word and was used at the time referring to ethnic cleansing.
---